they came in their thousands and took every advantage to get a good view, summernats09. Photo © Steve Marshal
The temperature reached 41 degrees that summer as the sun beat down on the crowd who had only one thing on their minds. Summernat is a mob fair that takes Canberra by storm every year at the height of summer and has done for over 20 year. 2009 was no exception. I made it a point to scout around the playgrounds of the car freaks as they paraded their metal and musscle for all to see. Women and kids, men, mums and dads were all in for a summernats baking.
There was every reason to believe the crowds, and they were big crowds, would need some style of control as hoon partols cruised up and down Lygon Street in an endless procession of metal. Police walked through the crowds like smitten soldiers waiting to pounce. Nothing. Absolutely nothing. The crowd was in control of their own satisfaction and the sullen police could only look on in peace.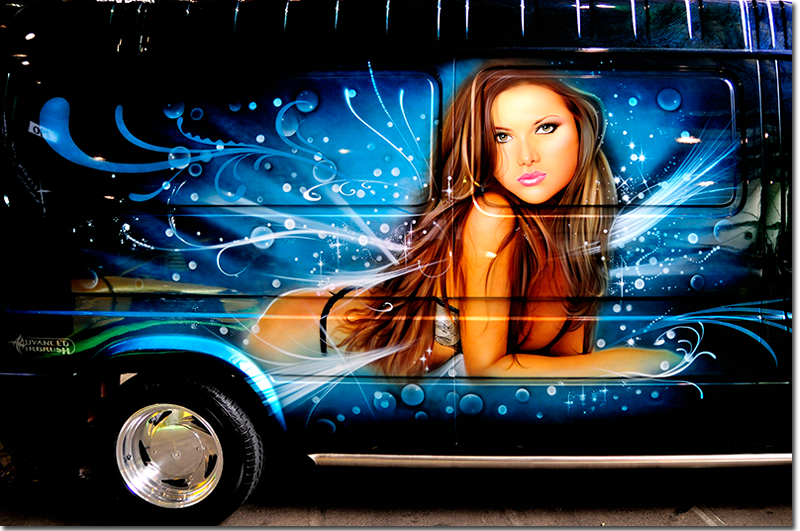 incredibly beautiful airbrushed artwork on the side of a van, summernats09. Photo © Steve Marshall
As the day temperature rose to bubbling point throngs of chesty people emerged from every direction and toward the smoke they came as fuel and oil burst unrepentantly from the gaseous chambers of metal. Kids lay in prams as screaming smoke and fists filled the air. God was on everyone's side. Deep inside the crowd one Tshirt said it all. Wide open till you see god then brake.
As I walked away from the summer-addled inferno I realised I had missed my calling, to be going flat out in a metal fuel box toward a higher destiny. But I didn't mind. I had witnessed the joy and exhilaration of shiny metal, bare bottoms and pumped muscle. I had seen my summernats after all, in the summer of 09.
---